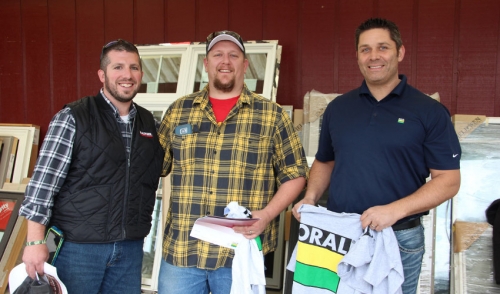 Friday afternoon, Von Tobel Lumber & Hardware in Valparaiso welcomed carpenters, construction workers, and loyal customers to Von Tobel's Festool Demo Day, where they tested out new tools and met factory representatives to learn more about how companies are changing the way you do construction.
Located near downtown Valparaiso, Von Tobel has been the region's go to building materials and hardware supplier of contractors and do-it-yourself customers for over 50 years. The supplier is dedicated to providing quality products and services for its consumers, which is why factory representatives from well-known and growing companies set up shop Friday afternoon to display new technology and demonstrate popular products.

"Today we wanted factory reps to come out and show our customers and the public what's available: new items, new tools, and new ways of doing things," said Jay Brant, Inside Salesman for Von Tobel. "Sometimes we find that we are kind of stuck in 1995 and there are a lot of newer, cleaner, and faster ways of getting a job done."
Companies whose representatives were featuring their products included Boral, Stabila, FastenMaster, and Festool. All afternoon, experts demonstrated their top of the line merchandise to customers in search of new techniques and products to make their demolition and construction projects faster and safer.
"For Demo Day, we have some vendors outside with some incredible cutting edge products," said Tim Ault, General Manager for Von Tobel. "A lot of the merchandise from companies like Boral, Festool, and FastenMaster, are high performing products that we want our customers to be aware of."
FastenMaster is a company based in Agawam, Massachusetts and only features American made products. Alex David, the representative from FastenMaster, was eager to show the company's products, which are designed to make any major project faster, easier to complete, and much safer than any technique before.
"We are an American screw manufacturer and are essentially the alternative to pre-drilling during a project," David said. "One of our really exciting products is the PAMFast AutoFeed Screw System."
According to David, when building a new house or doing a remodel, a subfloor is put down first. What typically happens during construction is someone is on their hands and knees all day drilling screws into the subfloor or nailing it in with a nail gun, which can be physically taxing. But with the PAMFast, which includes a belt of screws and drives the screws into the structure, the installation time of each screw goes from a few minutes each, to a few seconds each.
"Essentially, we are new technology," David said. "So instead of a contractor having to pre-drill a hole for a screw, which takes about two to three minutes each, they can simply run one of our screws in and they're done in about eight seconds. So that's why we like these kinds of events because we're new technology and we're educating contractors on stuff that they do every day and making their jobs a lot easier."
Von Tobel Lumber & Hardware and representatives like David were prepared for an afternoon of questions and intrigue from almost 300 people. And to thank them for making their way to the Valparaiso store, the Von Tobel staff had a delicious lunch available to anyone who stopped by to learn more about the countless products and resources available to them that they may not have known before.
"It really helps to have factory reps here to meet with our customers," Brant said. "As knowledgeable as we try to be, we're not going to have every answer to every question about every product we carry. We have thousands of products from thousands of lines. So hopefully today we can have that one person who has a particularly hard task and can get some answers out of someone who knows even more than we do."
This article was originally posted on ValpoLife
To view this article in its original form, Click Here!